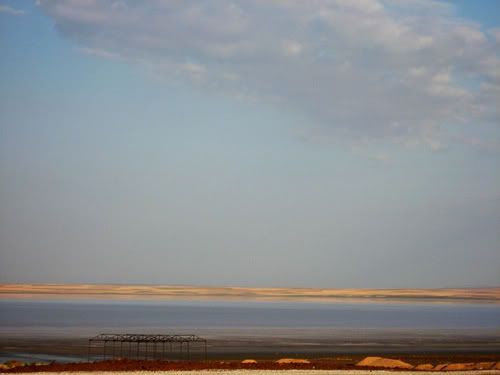 The Salt Lake is one of my most favourite places in Turkey.It's located between the Ankara,Nigde & Konya cities and with its 7414.40 km
2
area is one of the biggest lakes of Turkey.
The lake's area and depth of water has had an enormous 60% reduce the last 18 years.
All of this because of the global warming.It's said that this lake will be totally run dry and dissipate in a short period such as 7 years:(
Because of its wide area and the increasing water surface during the winter , this lake has become a great nest for many different bird types such as flamingos etc...Other bird types living there are :
(Glareola prantincola), (Tadorna tadorna), (Tadorna ferruginea), (Anas crecca), (Recurvirostra avocetta), (Burhinus oedicnemus) , (Larus sp.)
This lake is the biggest salt supplyer to the country.


What I love of this lake , is the amazing picturesque view it has.It's maybe because of its wide,shallow,whitish area that it looks always so different,weird,magic,scary sometimes and so very artistic.
I think it was before 8 years ago when I firstly saw this lake.It was winter time and it was all surrounded by snow..It looked a bit scary and you always had the feeling you were lost in this white,frozen world.
I remember seeing a lone tree in the middle of the lake .It was a view I'll could never forget.Like the symbol of stubbornness and vulnerability at the same time!!
This year I coudn't visit it so close , but could shot some photos of it from far away .The second picture doens't belong to the Lake but is very close to it and is located in the opposite site.
We were travelling to Cappadocia and the bus had to stop at the station close to the lake so I had the chance to re-experience this fabulous atmosphere.
It was 6.30 a.m and everything was so quiet and peaceful .The only sound you could hear ,was that of the fresh wind, caressing your face..You could maybe perceive it even from the photos..It was quite surreal..



for more infos on the lake click here:http://www.allaboutturkey.com/tuzlake.htm



I'll be back with more travel writings guys..cheers