Yerebatan

[a.k.a the cistern sunken on the ground]

Cistern (also known as Basilica Cistern) was constructed on 542 due to the Byzantine Imparator Justinian's order..The reason of its built , was providing enough water to the Big Palace that was located nearby.
After Istanbul's conquire , this cistern's existence remained unknown for other 100 years, until the day it was re-discovered because of the water remainings in the basements and of the people who used to go fishing towards the open holes.
After it , the cistern has been reused again.
During the '80, the cistern has passed through a whole reconstruction.
The cistern is measured to be 145 m long and 65 m wide.It's surface is 9800
m².Cistern consists of a total of 360 columns , whose view and perspective also adding here the successful lighting and the wonderful reflection on the water , makes a magic contrast with the general darkness and pushes your general dimensions thoughts further , thrilling you more and more.The pedestal with two Medusa heads at the end of the cistern, is another stunning and evocative detail of this unique building.One of the heads is positioned on it's side and the other inverted.There is still water under the columns (app.12 inches long) and some lovely fishes floating.According to a legend; the origin of the water of this cistern are the Medusa's tears!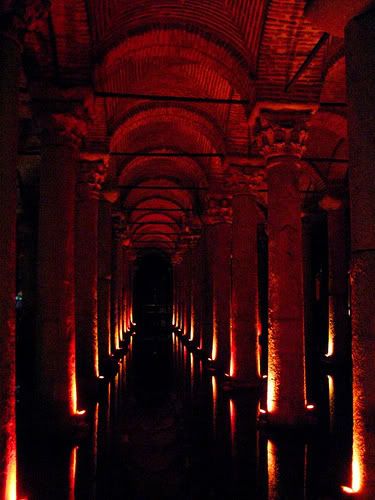 There is also a corner , where you can say a wish and throw any coin money.It's so very interesting to see how this place shines , with differents countries coins!
Seems like the whole world is united there wishing for her wish to come true:)
Another stunning detail is a very special column of the cistern named "The column of the tears".This very special column is filled with misks and is much greener than the others .Also , the cravings in "tear shape" , give this column a mesmerising aura.
In case you want to enjoy this place longer, you can have a coffee at the cafeteria found inside.If you're lucky and in time , you might also enjoy the beautiful poetic or musical nights that are often organised here.
The only problem in this lovely cistern , is the non-stop odour and the hard air caused by the high humidity.But one has to survive this for such a beauty ain't it?