Camondo stairs (also known as Kamondo stairs ) is a very special architectural project from the 19th century.Built in 1860 , by Camondo family , a very important and influent family by time, they are a special example of baroque and art nouveau styles.
These very special stairs have a hexagonal shape.It is said that this shape was arranged this way, so that if a child would slip while climbing down, the other bevel would prevent them from falling.These stairs were built to facilitate the transport of Camondo's children to reach school and to cut down Camondos way to the Banks Avenue , built by them as well.
Camondo family has a very interesting, fascinating and tragic history as well.
Camondos were of spanish-portuguese origine . They firstly moved to Venice escaping from the inquistion movement.
Their second destination would be Istanbul where they'd soonly ascuqire fame as one of moneychangers, bankers,financers,entrepreneurs in different investment areas.They were financers of the state during wars and banker of the state before the Ottoman Bank foundation.They were also one of the most important real estate companies of that time.Because of their influence on Ottoman Empire they are known as the very first foreigners to achive the priviledge of possesing real estates.
But above all, their positive influence at the modernizing and urbanizing of Istanbul city is ineffable.They have donated Istanbul city many , beautiful and very special buildings and khans.I'd especially note Camondo's Khan here, where different artists such as Abidin Dino (famous turkish painter), Orhan Veli (famous turkish writer/poet) , Yasar Kemal (famous turkish writer/poet) , etc.
Camondos were very well known as art partizans and supporters.After they left Istanbul , they passed to Paris where they kept on with their art passion becoming very well known collectors of fine art works.
But the end was not that brilliant for this family, very well known for their charitable nature.Sadly, the son of Camondos , Nissim was killed during first World War .A very special art museum with superb fine art works was constructed honouring Nissim in Paris.
Nissim's sister,Betrice wasn't much luckier , she was exiled with her family to Auschwitz camps, where they could never return anymore.Their mother , Irene was the last person belonging to Camondos .With her death, the dinasty of Camondos came to an end.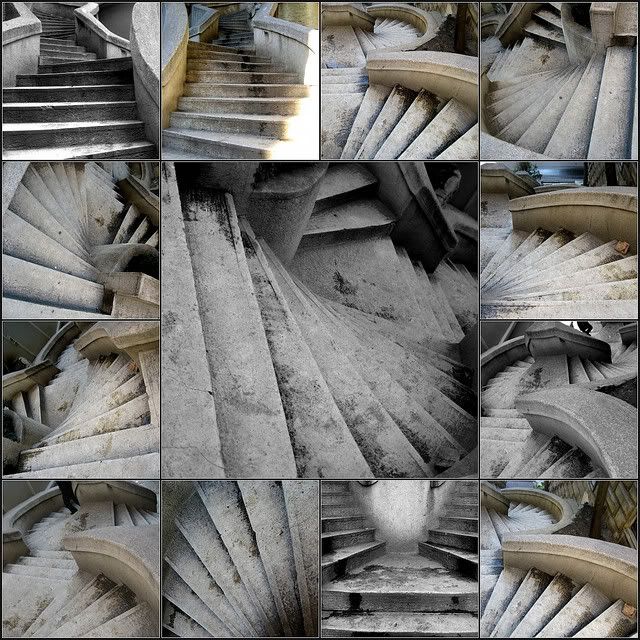 To return to Camondo stairs, everybody that has visited them, has a special memory there.Is it because of their unique shape, or their atmosphere , that I can't tell.For an unknown reason it is also told that these stairs are commonly called as "love stairs" by folk.
Henri Bresson Cartier, a french photographer, very well known for his reportage work has also a very fine photo of these unforgettable stairs.

click here to have a look at my whole Camondo Stairs Photo Collection:
http://www.flickr.com/photos/eni/tags/camondostairs/

To have a look at Henri Bresson Cartier's "Camondo Stairs" picture click here:
http://www.artfacts.net/exhibpics/16896.jpg
for more info on Camondos:
http://en.wikipedia.org/wiki/Camondo