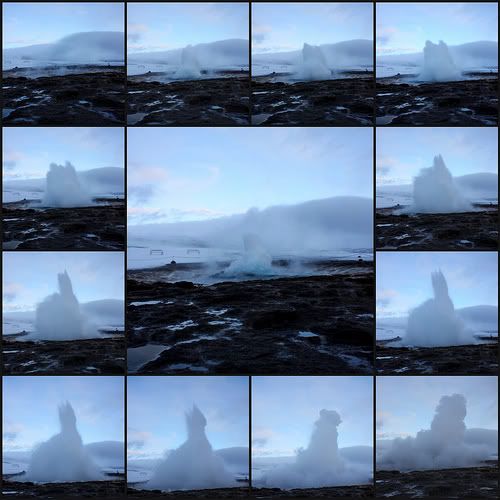 © Eni Turkeshi Photography
Most of you might have heard of the famous Icelandic geysirs.They are located on the country's south west part
.
It's there that you can experience the magic of fabulous steam rising from the hot springs, vent and streams found all over this area.
Actually , all of the hot springs world wide are called due to the great Geysir located here.It's been told that Geysir has been erupting since the early 14th century up to the early days of 20th century.It hasn't been active since then.
According to some ,Geysir stopped because lots of rocks has been threw to it to set it off.Some say , it just stopped .
But when it used to erupt ; it's been told it used to go 150-200 feet high.
It was a bit frightening to visit a geysir that you might never know if it's going to be active or not anymore.But it was worth of it:)
Sure Geysir has a little twin:) called Strokkur.
Strokkur of course is not as big as Geysir used to be and when it erupts the steaming water goes 60-100 feet high.It happened once in 5-10 minutes.
The area of geysir was surrounded and you couldn't get closer than that .
Actually , it wouldn't be wise:)
I sure was thankful to my best friend (my camera;) that helped me get every single second , when it started to erupt.
I just wish i had a tripod by myside.Because you always need extra light in Iceland during winter time;) , plus i was so excited to watch it myself, so couldn't concentrate much , so you guys are going to accept this trembling photos ;)
But you can see from the photos , the amazing moment it gets ready to erupt and all it's phases.The first moment can be seen on the picture on top.
The other photos show the continuous moments.
It was really an amazing experience.
I never thought it could be real , until i saw it myself:) I was 30 metres close to it:)
Also what i loved else , was the perfect nature harmony and the combination of the places full of snow & hot springs with boiling water.It's truly incredible to see these both together.
I think it's a better idea to visit geysirs during winter time;)
for more infos on Icelandic geysirs :http://en.wikipedia.org/wiki/Geysir